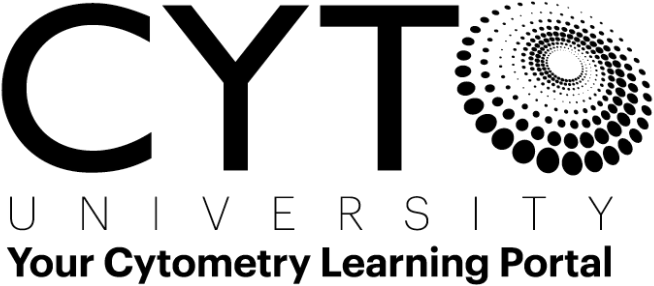 Three-Part Data Analysis Series
Register

Prices available after logging in
Data Analysis Rigor and Reproducibility, Part 1: Experimental Design

Data Analysis Rigor and Reproducibility, Part 2: Analysis Tools

Data Analysis Rigor and Reproducibility, Part 3: Publishing Flow Cytometry Data
Contains 3 Component(s), Includes Credits

Recorded On: 10/22/2019

A CYTO U Webinar presented by Aja Rieger, PhD & Andrew Filby, PhD Keywords: publication, visualisation, guidelines, MIFlowCyt, Flow Cytometry, Mass Cytometry, Genomic Cytometry

About the Presenters

Aja Rieger, PhD
Flow Core Manager
University of Alberta

Dr. Rieger graduated from the University of Alberta with a BSc honors in immunology and infection. She then obtained an MSc in neuroimmunology from McGill University. Following this, Aja returned to the University of Alberta for her PhD studies in comparative immunology, researching the role of macrophages in initiating and resolving inflammation in goldfish. She then moved to University of California-Berkeley for her postdoctoral fellowship in neuroimmunology. In her current role as the flow core manager at the University of Alberta, Faculty of Medicine and Dentistry, Aja oversees the operations of both the Flow Cytometry Facility and the High Content Analysis Core. She manages a team of cytometry technologists, with a specialty in imaging flow cytometry assay development. Aja is currently an ISAC SRL Emerging Leader.

Andrew Filby
Director of the Newcastle University Cytometry and Single Cell Core Technology Unit
Newcastle University

Dr. Filby graduated summa cum laude from the University of Huddersfield with a first class honors in biochemistry. After graduating, he undertook a Ph.D. at the National Institute for Medical Research (NIMR) in Mill Hill, London. He worked on the Src family kinases LCK and Fyn in adaptive immunity, obtaining his PhD in molecular and cellular immunology from University College London (UCL). Dr. Filby remained in the immunological field at the NIMR, working as a postdoctoral researcher on models of retroviral infection. He then worked in the commercial sector before taking up the deputy head role of the cytometry core at the London Research Institute (now the Francis Crick). Dr. Filby is currently director of the Newcastle University Cytometry and Single Cell Core Technology Unit. He leads a dedicated team of cytometry specialists with the sole aim of developing and implementing comprehensive, cutting-edge cytometry methods for the wider research community at Newcastle University and beyond. A significant part of his focus is the development of novel cytometry-based techniques that have underpinned several high-profile publications in journals including Science (2012, 2017, and 2018), Cell (2013), and Nature (2018). His current research is focused on whether label-free imaging cytometry techniques can be used to refine or replace the need for directed probes in order to prove cellular identity.

Webinar Summary

This webinar will give an overview of the current guidelines for publishing flow data with a high level of rigor. We will discuss publication of both standard flow cytometry data, as well as imaging cytometry, mass cytometry, and genomic cytometry data sets.

Learning Objectives

Understand MIFlowCyt guidelines for publishing flow cytometry data.
Use best practices for communicating cytometry data in publications.
Review key points to include in any methods section toward reproducibility.
Explore data repositories.

Who Should Attend

Anyone interested in publishing high-quality, rigorous flow cytometry data.

Contains 3 Component(s), Includes Credits

Recorded On: 09/24/2019

A CYTO U Webinar presented by Sofie Van Gassen, PhD Keywords: visualisation, dimensionality reduction, automated gating, clustering, FlowSOM, quality control

About the Presenter


Sofie Van Gassen, PhD
Postdoctoral Researcher
Gent University Center for Inflammation Research

Sofie Van Gassen received her MS in computer science from Ghent University in 2013 and her PhD in computer science engineering from Ghent University in 2017. During her PhD, she developed machine learning techniques for flow and mass cytometry data. She is an ISAC Marylou Ingram Scholar. As a postdoc she is further developing and improving machine learning techniques for single cell data in the DaMBi group (VIB - UGent Center for Inflammation Research).

Webinar Summary


Some of the current data analysis tools will be presented including tools for visualization (e.g., SPADE, tSNE, UMAP), automated gating (e.g., flowDensity, flowLearn), and population discovery (e.g., Citrus, FlowSOM, CellCNN). Detailed pros and cons of these methods will be highlighted along with a discussion on how to pick a good tool.


Learning Objectives


Learn about the dimensionality reduction algorithms, clustering algorithms, and population discovery tools.
Discuss guidelines and learn how to select which tool is best depending on a given situation.

Who Should Attend

Anyone exploring analysis tools they could apply to their cytometry data.

Contains 3 Component(s), Includes Credits

Recorded On: 08/15/2019

A CYTO U Webinar presented by Dagna Sheerar, SCYM Keywords: Reproducability, Statistical power, FMO, MIFlowCyt, Stain index

About the Presenter


Dagna Sheerar, SCYM
Manager
University of Wisconsin Carbone Cancer Center (UWCCC) Flow Lab


Dagna Sheerar has been working in flow cytometry shared resource laboratories since 2000, starting out as an assistant in organizing a BSL-3 cell sorting facility at the Immunology Services Laboratory of the Wisconsin National Primate Research Center. From there, she went on to manage the Flow Lab at the University of Western Ontario for three years. In 2006, Ms. Sheerar returned to the University of Wisconsin—Madison to work in the Carbone Comprehensive Cancer Center's Flow Cytometry Laboratory. In 2011, she was hired as the manager of the UWCCC Flow Lab. Always an active member in the flow cytometry community, Ms. Sheerar is a member of the Steering Committee for the Great Lakes International Imaging and Flow Cytometry Association and a member of the ISAC Shared Resources Laboratory Educational Task Force. As manager of the UWCCC Flow Lab, Ms. Sheerar focuses on providing researchers with the tools and support to perform rigorous and reproducible flow cytometry assays in basic research and clinical research trials.

Webinar Summary


This webinar will outline the steps and considerations in designing a successful flow cytometry assay in the context of basic research and clinical research trials. We will focus on how best to minimize variables for a robust and reproducible assay, paying attention to producing data sets well suited to downstream computational data analysis platforms.


Learning Objectives


Discuss the importance of working with biostatisticians in the early experimental planning stages.
Describe how to create criteria for sample inclusion/exclusion and building in room for sample loss.
Learn the importance of validating reagents and proper quality control and characterization of instrumentation.
Discuss how to create rigorous protocols and the importance of record keeping and annotation.
Expectations for the design, optimization, and standardization of assays and data analysis pipelines.

Who Should Attend

Researchers using flow cytometry assays in the course of their research.
SRL staff supporting researchers in the design, optimization, standardization, and data analysis of these research projects.
Computational biologists and biostatisticians performing data analyses for large-scale flow cytometry based experiments.